It's interesting to see themes change year after year. At an event like Defrag or Gluecon, it's hard to ignore the voraciousness of curiosity. Tinkering.
Of course I'm interested in pretty much all of the keynotes, especially Sam Ramji. Pivotal and all it's incarnations has been of interest to me for for years, the foundation just caught my attention because of its focus on contribution.
Fact is, the back-half of the first day is all about APIs. That's where I'll be. That and the SmartBear booth between sessions. There are big differences between last year and this year, and not just my hair and shoes.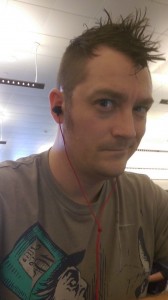 I come out here to have meaningful, real conversations. About everything, not just APIs, not just technology. I hope to elicit stories from people about their own experiences and challenges with the evolving connected landscape. As much as IoT isn't a revenue thing right now, it is still in the forefront of my mind, on my radar and on the tip of my tounge.
Come find me.